BRO. BERCHMANS MEMORIAL STITCHING SCHOOL
Montfort Agricultural School Rujewa, Tanzania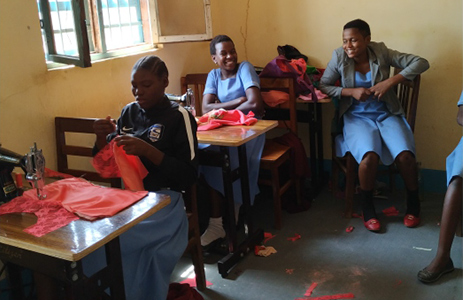 While the percentage of HIV/AIDS affected population in Tanzania is 8%, in Mbarali District in Tanzania it is 10%. Montfort Agricultural School is situated in the District of Mbarali.The causes of this high percentage of HIV/AIDS cases are due to lack of education, poverty, ignorance, polygamy and exploitation of girl children, etc.The case of school dropout girls also is very high in Mbarali District. Most of these school dropout girls end up getting pregnant and infected with HIV/ AIDS. As a solution to address this issue, Montfort Agricultural Secondary School took the initiative to start a non-formal stitching centre for the school dropout girls of the locality by the Brothers Community under the leadership of Bro. James N.A, the Superior and Headmaster of the Institution.Bro. Mathew Kavumkal, an Indian missionary in Italy, readily agreed to help buy 10 sewing machines, and the Bro. Berchmans Memorial stitching centre was started in February 2018.
The purpose of starting this centre was to occupy some of the school dropout girls from Monday to Friday from 7.30 am to 2.30 pm. When they finish one year of training, they are given a sewing machine for half payment of the sewing machine. This enables them to earn a livelihood after their training here in the centre, lest they become enticed to have sex for money and become victims of HIV/AIDS.
Three batches of 16 students each have so far passed out after completing the course and have got a sewing machine each.
Bro. Mathew has added another 5 sewing machines making it 15 sewing machines.
Bro. James N. A., SG