Inspired by the concepts of Integral Ecology and
Ecological Conversion enshrined in the Encyclical, Laudato Si'
By Bro. James T. K., SG, Assistant General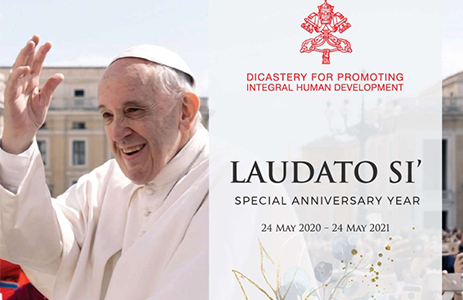 In the words of Pope Francis, "The urgent challenge to protect our common home includes a concern to bring the whole human family together to seek a sustainable and integral development, for we know that things can change…". (Laudato Si', 13). He envisions a state of harmonic coexistence wherein the needs of the present are met without compromising the needs of the future.
The new Report (2021) of the United Nations Environment Programme offers a blueprint for the sustainable world we need, with practical recommendations on how to tackle the three planetary crises of climate change, biodiversity loss and pollution. The well-being of today's youth and future generations depends on an urgent and clear break with current trends of environmental decline. The coming decade is crucial. Society needs to reduce carbon dioxide emissions by 45 per cent by 2030 compared to 2010 levels, and reach net-zero emissions by 2050 to limit warming to 1.5 °C as aspired to in the Paris Agreement, while at the same time conserving and restoring biodiversity and minimizing pollution and waste.
Echoing the urgency of tackling the environmental crises, Pope Francis said: "As the term 'countdown' suggests, we must act urgently…Each one of us can play a valuable role if we all set out today — not tomorrow, today…Science tells us, every day more precisely, that we need to act urgently — I am not exaggerating — this is what science tells us, if we are to have any hope of avoiding radical and catastrophic climate change…This is a scientific fact." (Cf. TED Talk, Oct 11, 2020).
LAUDATO SI' ACTION PLATFORM
The Laudato Si' Special Anniversary Year is being observed from 24 May 2020 to 24 May 2021. It was opened with Laudato Si' Week 2020, and released seven goals grounded in the Laudato Si' concept of integral ecology with a clear emphasis on "ecological conversion" in "action". Within these goals are roughly two dozen indicators, indicative of caring for the Earth and "total sustainability". Benchmarks include carbon neutrality, biodiversity protection, upholding climate and social justice for the marginalized sectors.
Pope Francis says, "Interdependence obliges us to think of one world with a common plan." (LS #164). Responding to this call, the Dicastery for Promoting Integral Human Development (DPIHD), in collaboration with Global Catholic Climate Movement (GCCM), will be launching" Laudato Si' Action Platform on 24 May 2021. It is a seven-year action plan at local, regional, national and international levels towards addressing Laudato Si' Goals, namely:
Responding to the cry of the Earth
Responding to the cry of the Poor
Ecological Economics
Adoption of Simple Lifestyles
Ecological Education
Ecological Spirituality
Community Engagement and Participatory Action.
OUR RESPONSE
Our Constitutions No. 67 says: "…the Brother teaches the young to use created things in the light of the Gospel and according to the teachings of the Church". Our 32 General Chapter (2018) says: "We will draw inspiration … from the Social Teachings of the Church, particularly from the Encyclical Laudato Si'. Responding to the messages of Laudato Si' and the call of our Constitutions and the General Chapter, some of our Provinces have already initiated commendable actions in the areas of renewable energy, cultivation of medicinal plants, biodiversity & afforestation, water management, waste management, relief to vulnerable groups, simple lifestyle, ecological spirituality, ecological education, etc. We need to strengthen these initiatives and invent new, concrete, visible, long-term projects, being caught up with "the urgent need for us to move forward in a bold cultural revolution" (LS, 114).
Pope Francis reminds us, "The future of humanity does not lie solely in the hands of great powers and the elites. It is fundamentally in the hands of peoples and in their ability to organize." (Second World Meeting of POPULAR MOVEMENTS, Santa Cruz la Sierra, Bolivia, 9 July 2015). The need of the hour is to engage every Brother, Teacher, Student and anyone associated with our mission, in promoting total sustainability, considering the global climate emergency that threatens the balance of our eco system.