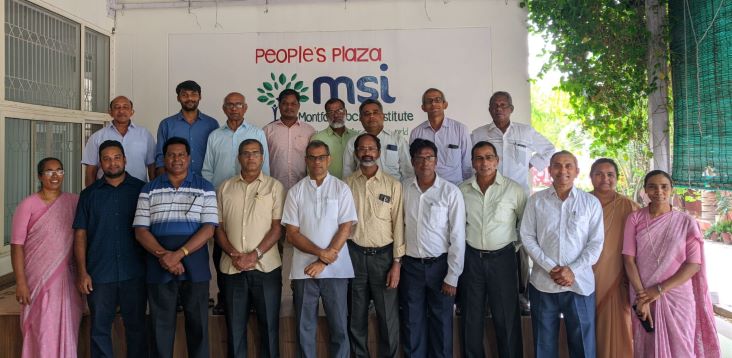 The live in session of J.P.I.C members of Hyderabad Province from 4-6 November, 2021 at MSI was inaugurated by lighting the lamp, symbolising the 'sacred fire', by Provincial and four of our veterans in the field of social action along with a meaningful prayer and inaugural address. A small band of 22 Brothers and Sisters participated and were in communion those three days, for the Montfortian mission for the vulnerable and the earth.
A personal sharing by the members of their experience of walking and living with the marginalized people was enriching and was long awaited. The live in session blossomed to deepen the commitment to the marginalized and the earth and strengthened the bond with each other and created the synergy needed  to continue the JPIC mission with renewed vigour.
Fr. Amar S.J enlightened the members on the Pope's encyclicals, Laudato Si' and Fratelli Tutti, and presented some relevant ideas and challenges to our present context. The members present also had the opportunity to listen to four other activists from different fields. Bro. Mani Mekkunnel enlightened and inspired the members of the history of the commitment of the Montfort Brothers for the marginalised  starting from Bro. C.M Joseph, Bro. M.K Mathew and others, to the present, and how our Brothers have adapted and started new ventures according to the signs of the times.
The members also shared from their experience in the field which helped to be in touch with the mission in all our centers, its strengths, challenges and the future plans.
It was suggested to make a scientific study of our JPIC centers and suggest possibilities for the future. Various issues that came up in the sharing would be further discussed and discerned by regular follow up sessions online and offline.
The live in session concluded by listening to the message of Rev. Bro. T.K James, Assistant General and praying together Montfortian Action for total sustainability and the canticle of Brother Sun and Sister Moon.
(Source: Circular No. 25 of Provincial Superior dated 10 November 2021)